Recover Green Logo on Shirt
---
Green logo recovery procedure
In EZ Green Screen 5, recovering a green area is very simple using the keep and remove area menu. This feature is new to the version 5 software release. Note that the procedure in this lesson is not for situations for when the green is on the edge of the clothing. For that situation, see our other tutorials.
Step 1: From the main EZ Green Screen menu, click on the "Keep and Remove Areas" button.
Step 2: In the selection tools menu, select either the lasso tool or polygon lasso tool. Either tool will work. The polygon lasso tool is often easier to use if you need to squeeze the selection into a tight area, especially if you are not steady handed with the mouse. Make a selection around the area that contains the green logo. make sure you don't select and of the green screen area.
Step 3:In the selection actions menu, click on the button the "Add to FG - No Spill Correction" button. The software will then add the selected area back into the foreground. It will not use any spill correction.
Tip: If you have an area that needs to be in the foreground that needs spill correction (green reflection for example) then you can use the "Add to FG - With Spill Correction" button instead.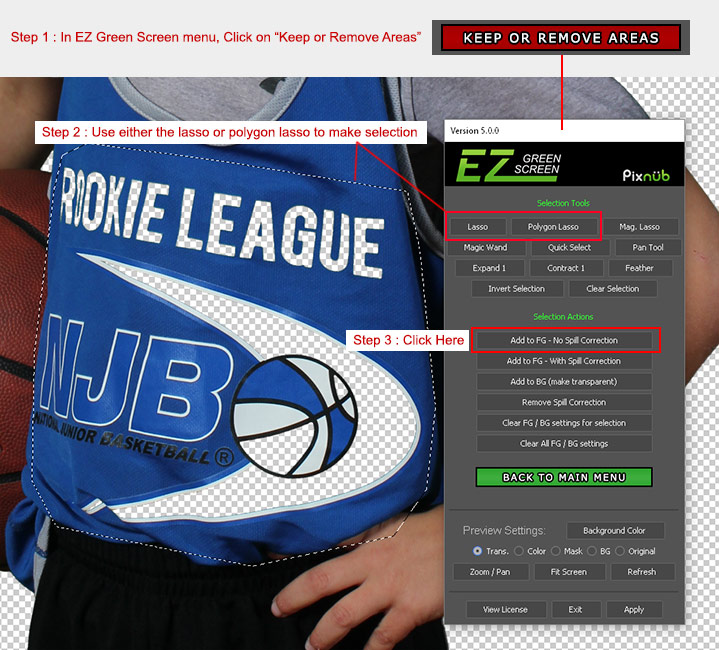 Image after foreground recovery